Kimsey Run Lake is a great place to fish.  If you're in the area, and you don't want to go to Trout Pond, this is another great spot.  Kimsey Run Lake doesn't have all the amenities of nearby Trout Pond, but it's a nice, relaxing spot to spend a day catching your limit.  Plus, unlike Trout Pond, it's totally free.  Just drive up, park your vehicle and drop your line – or launch your boat.  It's great for fishermen, but it's also a popular spot for bird watchers.  It is not uncommon at all to spot an eagle or two here.  It's a nice place to sit back and watch nature all time of year.  
I think spring and fall are some of the best times of year.  This place is just day-use, so there is no camping, but you can camp just down the road at the Lost River Campground.  If you wanted a bit of exercise, you could even walk, but how would you carry all of those fish you are going to fry in front of all of the other campers?
The lake is about 60 acres, so it's pretty good size.  The maximum depth is about 20 feet, and it averages about 10 feet.  You can download a nice bathymetric map below – and it's totally free.  
I've been here a dozen times or more, fished a few times, but mostly I was just hanging out in the evening.  Watching other people fish, trying to spot some eagles or maybe some deer along the lake.  Some of my friends are here several times a week, and I am thankful when I can eat one of their delicious trout.  This lake is some of the local's favorite.
There's no swimming here, but you could take a boat, canoe or kayak out on the water.  You can fish or just take a nice slow tour of the lake.  Be careful of all the stumps just above or below the water line to the left (north west) of the boat ramp.  The lake is stocked, and there are bass, catfish and trout among others.  Trout is stocked every two weeks from March through May.
There's no hiking trail here either, but fishermen find good spots along the edge of the lake.  I'd say most of it is accessible, although I have never walked all the way around it.  The back park adjoins private farm land, and I'm not sure if there is enough room to walk around it at that point or not.  Of course, please always respect the landowners.
This place is not really a venue for biking, but you could bike up and down Kimsey Run Road if you like.  
This lake just focuses on fishing and nature watching.  If you want to swim or hike or bike, Trout Pond is a better choice.  But here you can take your fishing equipment anywhere without worrying that someone will step on a lost hook, and you can give your dog a dip in the lake anywhere you want.
Another positive is that the lake is fairly wheelchair accessible.  The road to the north west by the lake is pretty accessible.  There are slow grades, and I believe that they would facilitate users with a disability.  Many people fish right off the boat ramp, and that is extremely accessible.
The negative about Kimsey Run Lake is that is just has portable toilet bathrooms.  Well, maybe that is a positive that at least it has portable toilet bathrooms.  It doesn't have any of the amenities of Trout Pond – running water, flush toilets, hot showers, camp sites, etc.  It's just a decent-sized lake for spending the day fishing or relaxing and watching wildlife.
Trout Pond is my favorite lake in the area, because I like to swim and kayak and sometimes camp.  But if I only wanted to fish, Kimsey Run would be an excellent choice.  I have seen more fish come out of Kimsey Run, it's a little closer and faster to the main road (Rt. 259) and certainly not least of all – it is free!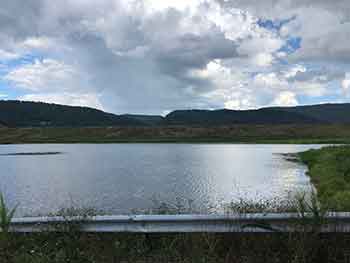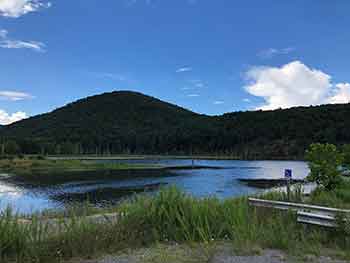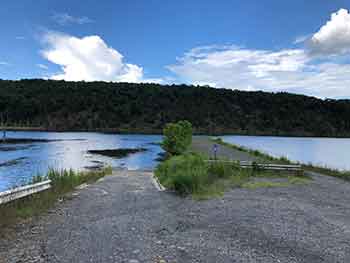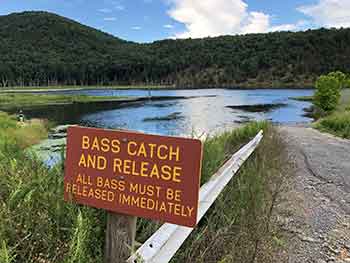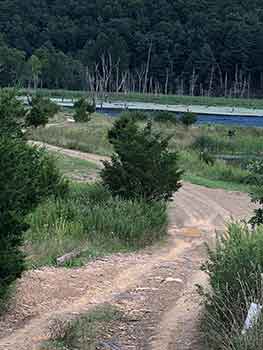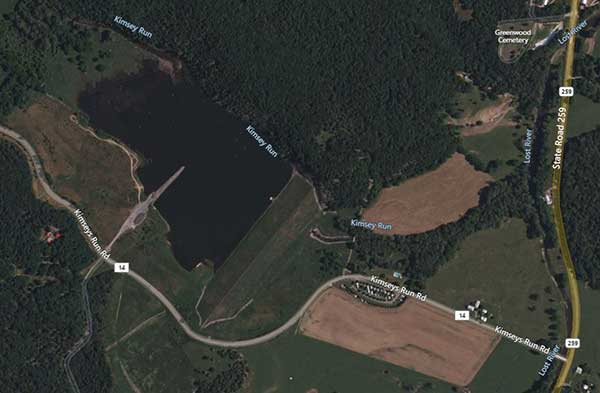 In the aerial photo above, Rt. 259 is on the right.  Kimsey Run Road runs along the bottom of the image and the lake is in the center-left.  
The boat ramp into the lake with an access road to the north-west.  You can drive along there, park and fish from the bank.
There is a pretty big parking area where the portable toilets are located.  The parking area is never completely full. 
Where is Kimsey Run Lake West Virginia?
Kimsey Run Lake West Virginia is in Hardy County.  It's in Lost River and close to Mathias, Baker and Wardensville. 
If you are coming from Rockingham County, VA (Harrisonburg, Broadway, Fulks Run) just stay on Rt. 259 toward West Virginia.  You will pass the Capon Springs General Store in Bergton, then Highland Retreat and then cross the WVa line.  Drive for about 10 miles. You will pass through Mathias and Lost City.  You are getting close when you pass the Lost River Grill.  The turn off to Kimsey Run Lake is about a mile after the Lost River Grill.  It's on the left and called Kimsey Run Road.  It's about a mile up the road on the right, past the Lost River Campground.
If you are coming from further North in Virginia like from Winchester or Strasburg or Woodstock, I'll give you the better option that is easy with straight roads.  Especially if you or your kids get car-sick / motion sickness and do not like twisty roads – take Rt 48 all the way over to Baker.  This was is a bit longer, but the roads are straighter.  At Baker take 259 South for about ten miles maybe.  The road to Kimsey Run Lake will be on your right – Kimsey Run Road.  (If you pass the Lost River Grill on the left, you have gone a bit too far.)  The lake is just up Kimsey Run Road about a mile.