Food at 5:00, rides at 6:00, entertainment at 7:00!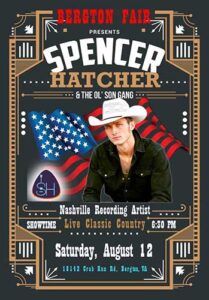 **NEW* this year, camo t-shirts and hats. We also have hoodies in blue (shown).Quantities are limited. They will be available fair week starting on Tuesday, August 8th at 5:00 PM. Tent will be beside Martin Lutheran Church food booth. No pre-sale.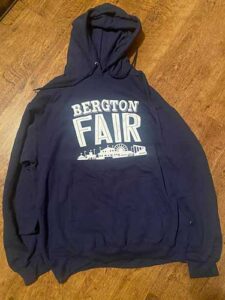 Just a very reasonable $2.  FREE for 12 and under.  This will not break your bank.  If you don't have $2 ask the next person in the car line if they will pay for you.  If they're from Bergton, they'll probably give you $2, if they can spare it.  Because Bergton folks want everyone to have a good time.  Get yourself on up here to the Bergton Fair!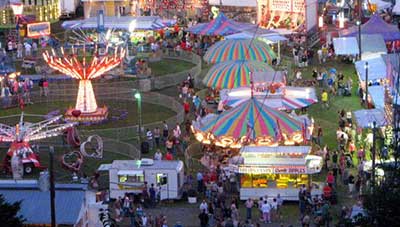 As always, we have a great line-up and a variety of entertainment for you this year.  The entertainment begins 6:30-7:00 PM. 
Tuesday August 8th- Josh Oldaker (Gospel)

Wednesday August 9th- Raw Country (Country)

Thursday August 10 -Bergton Community Beauty Pageant.  The Beauty Pageant (Beauty Pageant Facebook Page) is always on Thursday.

Friday- August 11- Standing Room Only (Rock)
Saturday August 12- Spencer Hatcher (Bluegrass-Country)
No Bergton Fair on Sunday.  Sunday is the Lord's day.  If you're still in town, there are plenty of churches in Bergton that would welcome you.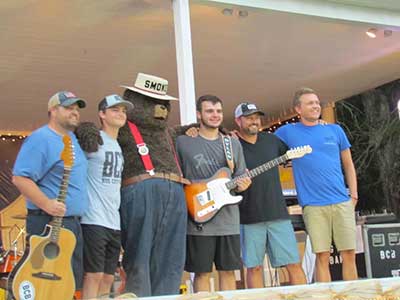 Tuesday August 8, 2023
Josh Oldaker / Country gospel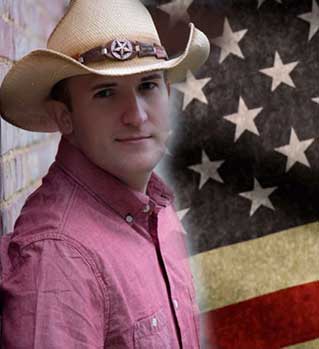 Wednesday August 9, 2023


Raw Country / Country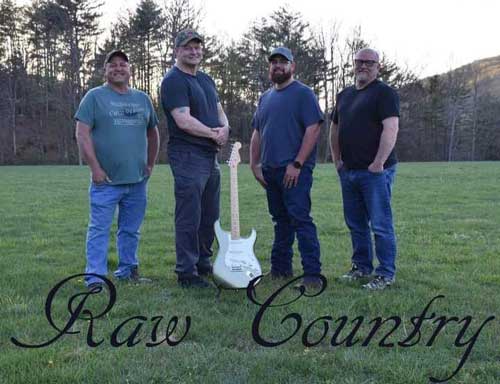 Thursday August 10, 2023
Bergton Community Beauty Pageant
Jr Miss Bergton Paylynn Rexrode and Miss Bergton Bryce Miller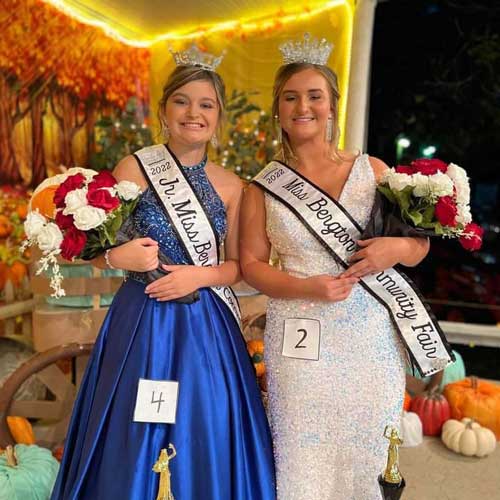 Friday August 11, 2023


Standing Room Only / Rock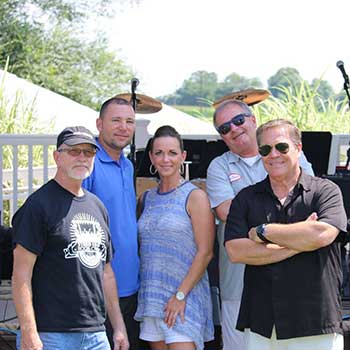 Saturday August 12, 2023
Spencer Hatcher / Bluegrass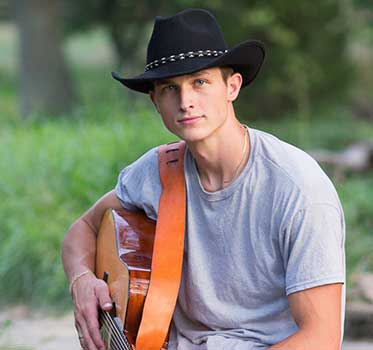 Of course!  The best blue-ribbon winning vegetables, crafts and arts in the area.  The complete list of exhibits can be found in the EXHIBITOR'S HANDBOOK.  If you're from the Bergton or the nearby communities of Criders, Fulks Run or Mathias, you are invited to enter.  Maybe you made a beautiful quilt or drew a pretty picture.  Bring that big potato or your special apple pie.  And good luck, because a blue ribbon gives you bragging rights for a year.
Yep – everything sweet, sticky, fatty, yummy, healthy and all 100% delicious!  Check out the variety below.  We have foods for everyone!  Food will be available at 5:00.
Our Food vendors are getting ready for the fair. Can you say yummy?  For a real Bergton Fair challenge, try one of everything (but not on the same evening).
Mathias Ruritan Club:
Hand dipped Hersheys ice-cream
Timberville Moose Club:
Pork tenderloin sandwich
Cheeseburgers
Polish sausages
Beer battered french fries
Pickle chips
Chicken nuggets
Fulks Run PTO:
Cheeseburgers
Chili, cheese, hotdog
Pizza
Cold Turner ham sandwich
Cheesecake
Nachos
BBQ
Fat Boyz BBQ (pulled pork sandwich, sides, pulled pork sundaes, loaded nachos)
Bergton Ruritan Club:
Deep fried chicken
French fries
Funnel cakes
Elephant ears
Martin Lutheran Church:
White beans and corn bread
Cheeseburgers
Chili dogs
Home made desserts(cakes and pies)
Nachos and cheese
Fried Baloney Sandwich
Mathias-Baker Fire Department:
Fried Country Ham sandwich
Chili dogs
Hot dogs
Chili, cheese fries
Boardwalk fries
Strites:
Doughnuts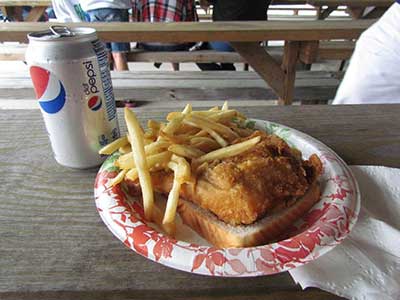 We've got 'em. We've got rides that go fast and rides that go slow. We've got rides that spin and rides that shake. We've got rides that go up and down and rides that go back and forth. We've got rides for children and rides for adults. All of your favorite carnival rides from the Ferris Wheel to the Scrambler to the Merry-Go-Round! The prices are affordable and you will like them. Ride all night with a $20 arm band. Rides begin at 6:00. Our personal advice is not to go on spinning rides immediately after stuffing yourself. But you go ahead and do as you please. Here are some additional tips!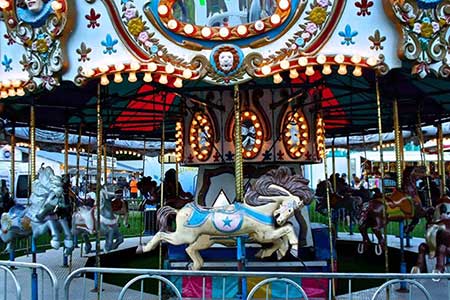 Businesses can place an ad in the Bergton Fair book.  The book is updated every five years.  On this website, the list of businesses can be found in the back of the exhibitor handbook or on this PAGE OF SPONSORS.  You can also make a donation to the fair by mailing a check to:
Bergton Fair
C/O Colin Whetzel
PO Box 70
Bergton Va 22811
Businesses can set up a booth or display or exhibit new farm equipment (crawling over the tractors was one of my favorite things to do as a kid).  There is a set up fee and you need to provide a certificate of insurance. Contact Leona Dove 304-897-5254 for availability.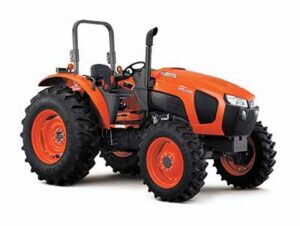 Service dogs are the only animals allowed at the Bergton Fair.  According to the Americans with Disabilities Act, a service dog is "a dog that is individually trained to do work or perform tasks for a person with a disability."  The ADA considers service dogs to be primarily working animals and are not considered pets.  So sorry, please leave your pets at home – even if they would like to attend.  You could pick up a treat for them as you are leaving the fair.  Our short-haired mutt of doubtful pedigree sure likes treats…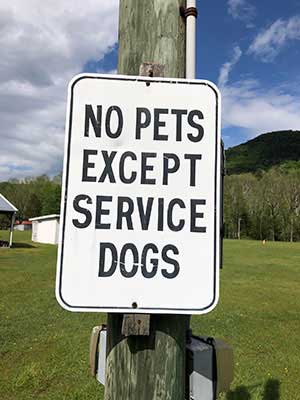 Valley Amusement (our ride provider) will be bringing an ATM for use during the Bergton Fair.  So you don't have to stuff your pockets with all the cash you need for those dozen chili dogs, large coke and a funnel cake.  The closest outside ATM would probably be over at the Capon Run General Store located at 18941 Brocks Gap Rd, Bergton, VA 22811.  You can fill up on gas there too.  Sadly, the Bergton Grocery burned down in 2021, and we all miss it.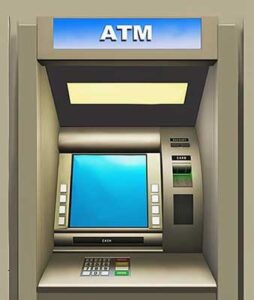 From Rt. 259, take the Bergton Road / 820 exit.
Follow this road for a couple of miles and make a right onto Crab Run Road (road stays 820).  There should be a sign there directing you to the right unless it blew away or unless someone forgot to put it up.  But we don't forget to put up signs.
If you reach Martin Luther Lutheran Church you have gone slightly too far.  You can turn around in the church parking lot.
Once you are on Crab Run Road, just follow it for about a mile and the Bergton Fair will be on the right. 
We'll save you a piece of chicken!
Although the Bergton Fair draws the biggest crowds and is the largest event, there are a lot of other things to do in and around Bergton.  Most of these activities are outdoor and take advantage of the beautiful mountains and lakes in the area.  There is a new campground in Bergton called River's Edge Campground.  It's beautiful and peaceful.  Lost River State Park near Mathias, West Virginia is not too far.  It has wonderful cabin camping, hiking trails, bike paths, and a pool.  We have hiked to Cranny Crow Overlook at least a dozen times starting at the Hidden Trails Stables.  Just down the road from the park is Trout Pond WVa.  Go swimming, fishing, stand-up paddle boarding,   kayaking, canoeing, hiking, and camping.  There's Lake Laura and Bryce Mountain Resort.  You can get a fine meal and stay at the Lost River Grill and Motel.  We have the Capon Run General Store (I saw a big catfish there) and make regular visits to Orkney Spring's Shrine Mont Retreat and Conference Center.  There are a lot of INTERESTING ACTIVITIES AND PLACES AROUND BERGTON.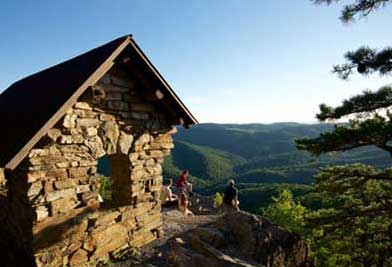 Most of the photos on this site were taken by Bergton's own Patty Estep Mongold.  Catch her at the fair, and if you're nice, she'll take your picture.  Here are some PHOTOS FROM THE BERGTON FAIR.  She's also responsible for our Facebook page, and it's great, so check it out too.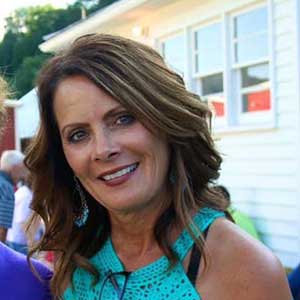 Had a great time at the fair and want to relive those moments?  Or maybe you missed the fair, but you want to see what was going on?  Here are the Bergton Fair 2022 photos by Patty Mongold.  Here are your favorite Bergton Fair photos from 2023 that you sent to our Facebook page.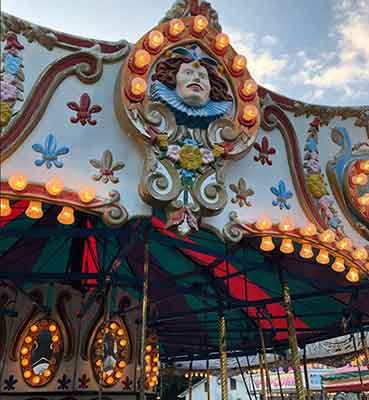 The Bergton Fair has a great FACEBOOK PAGE with lots of fun photos and news about the event.  Patty updates this page daily during Fair Week.  You can see who was at the fair – and maybe what they ate if they left a little on their shirt.  She might give a review of the entertainment like "Best Bluegrass in Bergton," or comment on the arts or vegetable judging "so-and-so won the sweepstakes for the fourth year running."  You should stay away from political talk, no trolling (positive messages only) and keep gossip to a minimum – unless it's really juicy.  Fairs are places to have fun and our fair page is a place to see a lot of happy faces and just make you feel good.  And we intend to keep it that way.
Questions about the Bergton Fair?
CONTACT THE BERGTON FAIR.  You might want to try posting a question on our Facebook page (see above), mail the Bergton Fair Association, or contact our President, Alvin Estep.  Mr. Estep is a nice man, but he doesn't take kindly to spam.  So please don't email him that you are the Prince of Timbuktu and you need someone to handle a large financial transaction.
The Biggest Little Fair Anywhere