Sadly, one of our most well-loved establishments, the Bergton Grocery, burned down in 2021.  The whole community misses the store and grieves with the owner's family over what the grocery meant to the residents and visitors of Bergton.  The store and store family have been with us our entire lives.  The Bergton Grocery really was a one-of-a-kind place.  You could buy your lunch off the grill, grab some chips and a candy bar, and eat them on the front porch with all the regulars.  When we were kids we always stopped for an ice cream after a cool river swim at Blue Hole.  We were never disappointed.  After Miller Turner's store closed in Criders and Green Valley Store closed near the WVa line, the Bergton Grocery was the only place in the community to buy gas, food, and supplies.  They had a lot of things including locally made crafts.  The store site is now a residential home location.  If you want to buy food in Bergton, you should go to the Capon Run General Store out on Rt. 259.  
River's Edge Campground is a new camping area in Bergton.  It sits on a beautiful piece of property along the North Fork of the Shenandoah river with a view of the Blue Ridge Mountains and the George Washington National Forest.  And you can swim in the river if you like.  The campsite has RV sites, tent sites and cabins.  It is located on Bergton Road (820) just off Rt. 259.  The road into the campground is just past the Bergton trash container site and before you get to the twisty mountain road.  If you get to Blue Hole. the Lutheran parsonage or the site where the old Bergton Grocery once stood (now a nice private residence), then you have gone a mile too far.
The Capon Run General Store in Bergton is sort of like a new Bergton Grocery.  It was being built around the same time as the Bergton Grocery burned.  It could never replace the original, of course, but it is a great convenience store with gas, good food, inside tables and rocking chairs on the front porch.  We have already had many meals there.  It has a daily sort of home-cooked meal plus the typical fast food plus now they even have pizza.  It's good.  And if I understood them right, every pizza is the same price, regardless of the number of toppings – so if you're a pizza lover, go with the supreme.  The store has all kinds of things you might need including plumbing pipes and attachments, automotive supplies and a lot more.  You might not have to go to Broadway or Harrisonburg or Mathias.  Check this place out first.  The store sits on Rt. 259 just beyond the Bergton cut-off (park and ride) toward West Virginia.  The address is 18941 Brocks Gap Road, Bergton, VA 22811.  The Capon Run General Store phone number is 540-901-1025.
You'll never know what you might see or who you might run into at the Capon Run General Store.  I was there one time and ran into a Mr. Burkett (that might not be quite right) from Criders.  He was just back from a fishing trip to West Virginia.  On this fishing trip he caught some sort of West Virginia record catfish.  This thing was unbelievably big.  I had never seen a local fish as big as this.  The fish's head was about the size of a bowling ball.  If I remember right, the catfish was 37 pounds and 41 inches long.  That could be way off.  But it was a dadburn big catfish.  I don't even know how you would catch a fish that big.  Fishing line is tough to break – found that out swimming at Trout Pond – but this monster must have put the man, the pole and the line to the test.  Mr. Burkett said he planned to make several meals out of this fish.  Catfish is good, but by the time you finished this fish, you will be tired of catfish.  I tip my hat to you and your skills, sir.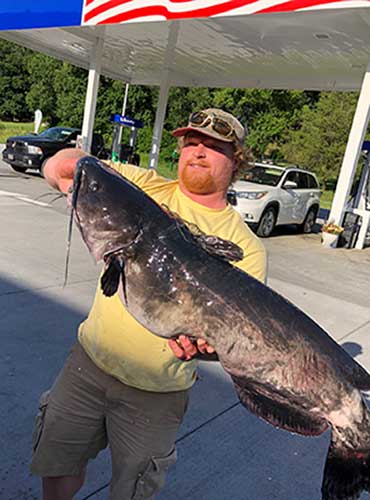 Hidden Trails Stables offers horseback riding in Lost River State Park in Lost River, West Virginia.  It is so much fun.  I have done this several times, and I always really enjoy it.  I wear their safety helmet and the horses move pretty slowly, so it is totally safe.  The well-trained horses know the route, so you probably couldn't get them to veer off the trail even if you wanted.  The horses all follow each other, and just go about their business of walking the hidden trails.  Never seen a horse act up.  Never seen a rider or guide mistreat a horse or show off like they were big John Wayne in True Grit.  My dad says that he has no interest in getting onto a hot horse in the middle of summer ("it's like sitting on top of a furnace"), but I have always had a great experience, regardless the time of year.  If the horse was ever hot, I never noticed it.  I have been with both first-time and experienced riders, and I think they enjoyed it equally as much.  I was once with a group of first-timer kids, and there was some fear of the big horses.  But the guides were patient, and the children eventually found their courage and had a fantastic time.  They loved it so much they went back again the next day.  They conquered their fear, and they were really proud of their achievement.  I credit the kids AND the guides AND the horses.  So for a family-fun experience, try the Hidden Trails Stables in Lost River State Park.
I have eaten at the Lost River Grill and Motel maybe 100 times over the past ten years.  Never once disappointed.  Not once.  The food has always been great, and the staff has always been friendly.  If you're in the Bergton area, you don't have a whole lot of choices for food.  You basically have the Capon Springs General Store.  In Virginia, the next closest would be take-out food from MG Fulks Grocery in Fulks Run.  It's probably about ten miles away.  You can get chicken and pizza.  Maybe a few other things.  You can get country ham sandwiches right beside it at Fulks Run Grocery.  Broadway, VA is about 20 miles from Bergton.  There would be more places to eat in Broadway – Italian, Mexican, BBQ, some fast food in Timberville, plus Chinese and pizza.  Harrisonburg, VA is about 35 miles or a bit more from Bergton, and it would have any kind and quality of food you wanted.  Anyway, the Lost River Grill is about 15 miles from Bergton on the West Virginia side.  (Bergton is right up against the state line.)  Eat there if you want to take your dining experience up a notch.  The food is high quality and you can get local favorites like meatloaf and gravy, grilled trout, and steaks.  You can also get fresh seafood and other fare that are a little less common in our part of the country.  I think they still have a half-priced burger night.   You can't go wrong with half-price burgers.  The folks that show up are about half locals and half out-of-towners.  And everyone likes it.  I have never stayed at the motel or bed and breakfast, so I can't speak to that.  No idea what it looks like inside.  No idea if the experience is more comfortable or a bit more rustic charm.  The Lost River Grill address is 8079 WV-259, Lost City, WV 26810.  It just sits right beside rt. 259 in Lost River.
Phone: (304) 897-6482
Bergton has some nice rivers for fishing and a small swimming area called Blue Hole, but for larger lakes you'll have to go out of the area a bit.  One of these lakes is Lake Laura at Bryce Resort.  If I recall, the lake is about a half-mile or maybe a little longer.  You can boat and fish on it.  You can tube or stand-up paddleboard or do whatever you want.  You can swim.  I'm not sure, but I believe the whole thing might be available for open water swimming.  They have swimming signs at the boat access area and no designated swimming area there, so you may be able to swim as far as you want.  If so, this must be the only lake completely available for open water swimming in the area.  If you are going to be out there in the open water, be aware of boats.  You should get a bright swim buoy or tow float to make yourself more visible.  You can also hold onto these to take a bit of a break while you are swimming your two miles.  At the other end of the lake is a small beach shack where you can buy snacks or rent equipment.  You can rent paddleboards, paddleboats, kayaks, canoes, tubes and life jackets.  You can sit on the beach or you can take a walk on the nature trail that surrounds Lake Laura, Bayse.  
The only bad thing I can see here is that there is no bathhouse or bathrooms available.  I think that makes Lake Laura more geared to those staying at Bryce Resort or in other places around the lake.  But if you can find a public bathroom nearby, then this is a fun place to spend a day.